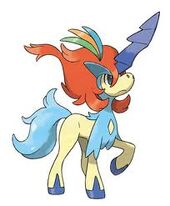 Chack, currently known as ChackKeldy15, is a currently active user on Warflame.
Chack made his first account on August 6th, 2012, and started posting at an unknown time later on. ChackNorris7 was active on the Black 2 board, but annoyed several users and was considered a troll. He would get mad at anyone and everyone who insulted himself , Keldeo or MLP. On 3/4/2013, he was finally banned, much to his dismay. He couldn't post anymore, as he had no alts. It was over.
The comeback, and early days on Warflame
Edit
When he was banned, Chack went to Pokemon Showdown. Eventually, on April 18th, 2013, he talked to OcarinaofToast on that site, and after a while, Chack was back.
On his first few day back, Chack was exactly the same as he was before, but he eventually matured. He still has problems today, but as anyone will tell you, he used to be MUCH worse.
Chack is still active today, although he still complains a lot. He had been banned several times, but had learned and made quite a few alts. 
ChackNorris7 (Banned)
-Chak- (Banned)
-Keldeo- (Banned)
-Virizion- (Banned)
-Latias-
-Waluigi-
ChackKeldy (Banned)
DiamondLeafeon (formerly Moocow's alt) (Banned)
ChackKeldy15
HeartGlaceon
Chack has been banned 6 times, 3 on the same day.
Chack is known to be a furry and a brony 
Chack feels like he doesn't get enough attention, even when he does.

(more will be added later)