| User Name | TableFlip |
| --- | --- |
| User ID | 6637128 |
| Karma | 400+ |
| Account Created | Thursday, July 12, 2012 12:45 PM |
| Signature | "I don't even know anymore." |
TableFlip (often abreviated as "Tab" or "Tabs") was a user who lurked on GameFAQs in the Kid Icarus:Uprising board until he decided to join GameFAQs. After a noobish day or two of getting used to being a member, TableFlip decided to check out the Black 2 board out. One day, MovesLikeJabba created a CYOA, which eventually became a sucessful RP, named The World Gets Changed into Pokemon! TableFlip joined the RP, and he was eventually invited by Garioshi to Warflame during January 2013.
About TableFlip
Edit
See below.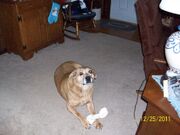 Tabs' Favorite Users
Edit
Series created by TableFlip
Edit
Safari Zone (Cancelled)
End of the World RP (Cancelled)
Smash Brothers Battle! (Cancelled)
Trapped in a Video Game Game (Cancelled)
Random RP (Inactive)
Super Mario Bros. 3 Blog (Cancelled)
Wars of Pokemon (Cancelled)
Warflame Game (Cancelled)
Evil Mistress_Zelda CYOA (Cancelled)
Joshua and Amber
Memes created by TableFlip
Edit
Personality
Edit
Tab is a robot.
Contributions
Edit
TableFlip revealed a glitch on Chatzy (often mentioned as the Leaving Glitch) where someone can make room for another user by pretending to be blocked via. using another window or tab.
TableFlip has made many series on GameFAQs, but most of them have been cancelled.
Tab's favorite organism is the dragon.
Tab was accused of being an alt whenever he joined GameFAQs for the first time due to his username.
Tab is the founder of Dramuh Chat and Random RP Chat , though he gave the idea for Warflame Fusion chat.
Tab currently has many alts, including Wii_Fit_Trainer, -Reshiram-, and _Suicune_ .
Tab's had an interest in writing, although his works aren't considered well.